Covid and Flu Vaccine Updates - September 2022
A massive thank you to all the Westhoughton patients, staff and volunteers.
We have begun to invite all eligible patients to book their Covid and Flu vaccinations . We are prioritising the most vulnerable and invites are being sent out in batches, all invites will hopefully be sent in the next 2 weeks.
If you have not heard from us in the next 2 weeks or do not have a smart phone please text you initials and date of birth to our vaccine hotline 07730 765245.
Please do not call our reception teams as this prevents those who are needing to make appointments from getting through.
Please be aware patients aged between 50 and 65 with no underlying health conditions will be called later in the autumn.
The clinics are being held at Peter House Surgery and appointments are available for patients from both our Westhoughton and Blackrod surgeries. Specific Blackrod clinics will also be arranged.
Care home residents and our housebound patients are being prioritised and will be contacted separately.
Many thanks to all our lovely patients for your continued support

Kind regards
The Partners at Unsworth Group Practice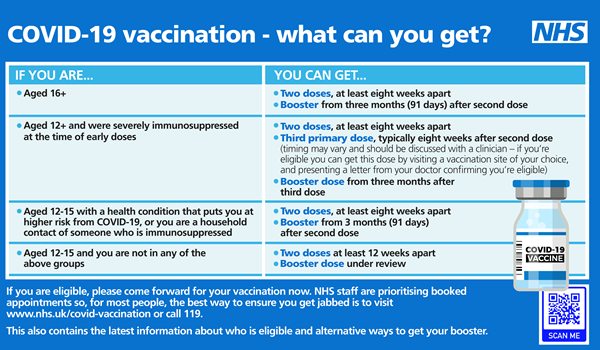 Keeping COVID safe within our buildings September 2022
As a surgery both patients and clinicians have had to adapt their working on a day to day basis to help protect both patients and staff. We thank all our patients and colleagues for their cooperation in such challenging times. It is now patient choice to wear a face mask in the surgery.
We ask that unless you have booked a face to face appointment that you still continue to use our other methods of contact for prescriptions, booking and general enquiries.
Thank you
The Partners, Unsworth Group Practice
General enquires can be submitted via Email - sms.p82015@nhs.net Please note we do not accept appointment or home visit requests via email.
Advice resources for pregnant patients regarding the COVID-19 vaccination
Please protect yourself and others
Stay safe
Thanks for your support & co-operation during this pandemic
Our Covid-19 Privacy Notice can be viewed under Practice Policies